The link between accessibility and publishing – and digital publishing in particular – might not be very obvious to everyone, and the scarcity of accessible (e)books available in the market – whether paper books or ebooks – provides too few reference points to nourish our understanding of this link. The purpose of this article is therefore to explore the section of the publishing industry that commits to offering accessible content for various readerships, and will do so by focusing on the French context accompanied by some examples from other European countries.
When beginning to think of accessibility within the context of the book industry, two main questions might come to mind: What is an accessible (e)book? and, How (in)accessible is the (e)book industry? We will attempt to answer them in two articles: the first one will go over the definition of key words (book, ebook and accessible (e)book) as well as illustrate these terms through various examples. The second will provide a more analytical overview by analysing the offer and the distribution of accessible (e)books in the overall publishing industry.
Note: This article is adapted from the training on accessible publishing delivered within the framework of the Simpl4all project in September 2022 in Maribor, Slovenia.
Let us begin by answering the first question: What is an accessible (e)book? To answer this question, we first need to define the concepts of book, ebook and accessibility on their own before synthesising with the definition of the accessible (e)book.
A book might be defined as a printed and bound set of sheets featuring written, illustrated and/or other content, edited by a publishing house or equivalent, and distributed directly and indirectly (through libraries, bookshops…) to a specific readership. This definition presents its weaknesses but will serve here as a useful starting point for our discussion on accessible publishing. It comprises within its framework books of various formats (hardback, paperback,…), of various types (fiction, non-fiction), as well as various genres (cookbook, novel, comics, poetry, drama, self-help…). It excludes, on the other hand, works such as master or PhD theses (since they are not meant for a readership but rather a narrow scientific board) or manuscripts of various kinds: journals, letters, sketchbooks… (since they have not gone through an editing process).*
* Note that these might however become books eventually if they are edited for this purpose
The ebook in turn can be defined as a book (as defined above) that exists in digital rather than paper format, in other words as a book that is meant to be read on a screen (whether a smartphone, laptop, ereader or tablet).* One might think of print books available in pdf format, black and white reflowable texts readable on kindle and other digital paper devices or ereaders, or even scrollable webtoons displayed for free on public websites. But not all the above necessarily qualify as ebooks, it might be useful in particular to narrow down the definition to books that were [1] natively designed for a digital reading experience, or [2] that have been adapted from a print book version to deliver an optimal reading experience on the screen, and not [3] books that happen to be readable digitally (and also somewhat awkwardly so) such as scanned pages from a published book. In practice, this factor also tends to narrow down the definition of ebooks to strictly epub3 files. These formats, designed by the EDR lab for hosting ebooks specifically, are quickly becoming a standard in the digital publishing industry and present the advantage of being compatible among various devices and reading softwares.
* Note that this definition theoretically excludes audiobooks which cannot be read on a screen
Epub3 ebooks might be of two kinds: reflowable or fixed layout ebooks. The reflowable ebook is made up of mostly text whose architecture is fixed in the code (titles, paragraphs, chapters, etc. are defined as such) so that the reading experience can be adapted to the reader's preference: the background colour can be changed, the font size increased or decreased and so on so that the text contained within the screen flows inside and outside of it accordingly. The fixed-layout ebook on the other hand is made up of both text and multimedia content (image, sound, video, animation, interactivity), media that exist in a fixed position on the page (just as text and illustrations are typically fixed on a printed page) so as to maintain a specific layout and design.
Finally, an accessible book can be defined as a book or ebook whose target readership presents one or several cognitive disorders (dys disorders) and/or disabilities (including hearing and seeing impairments or intellectual disabilities), and whose form and content answer the needs of such readership through specific accessible features (specific fonts, large print, etc.). Just like ebooks present a distinction between content designed natively for a digital format, and content already printed in paper format to be later adapted digitally, accessible (e)books can also be further divided into [1] books that are natively designed as accessible, and [2] those that are not, and have undergone an adaptation process from the mainstream publishing industry. Some people would even include [3] (e)books from that industry that happen to carry accessible features to be potentially part of the accessible publishing industry, as follows: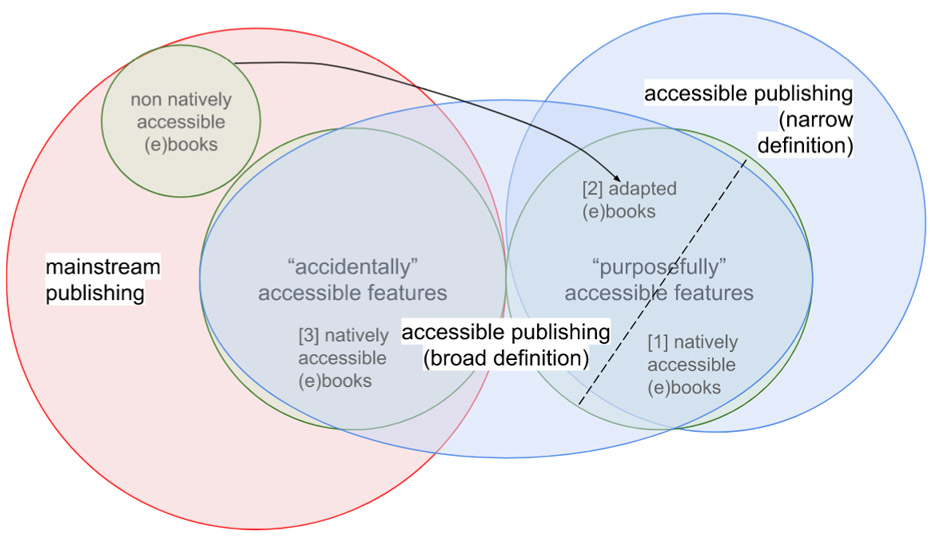 The accessible features at play will vary from book to book and depending on the readership targetted and their needs. There is no clear typology of accessible (e)book features and types but examples might include: books in braille, large print (e)books, (e)books in simple language, audiobooks*, ebooks including features such as voiceover, audiodescription, adapted font, adapted layout, text in sign language, etc. Let us now illustrate some of these various possibilities through two selected examples. For each, we will go over a brief definition of the (e)book, before exploring its features of accessibility and reflecting on how (un)well it fits the narrow definition of "accessible (e)book" – namely that of a print or epub3 ebook containing purposefully accessible features.
* provided the reading device and the reading platform or software allows for a navigation adapted to visually impaired and blind readers
Ma rentrée colère is a story about Loïc, a young schoolboy with down syndrome who tells the readers what his routine looks like through the lens of his back-to-school day. This book is available in print and in digital format, the digital book is available for purchase and download in epub3 format, or for streaming on the webplatform of the publishing house. The ebook is of the fixed-layout type and supports illustration, animation and voiceover which is narrated by a child with down syndrome and the text is displayed in a font adapted for dys readers. All in all, it fits perfectly the narrow definition of accessible (e)book in that is an epub3 file and was natively designed to include accessible features.
La palette de couleurs is part of the Arthur et Zazou collection by the company inclood which produces paper books paired with an application where one can access the text of all their publications in sign language. All stories within this collection are centred around these two siblings, one of which is deaf and the other hearing, and both of which can communicate in sign language and do so together. In the aforementioned story, they spend an afternoon side by side making a painting for their mother. Aside from the availability of the story in French sign language, the book does not contain other accessibility features. Unlike Ma rentrée colère which existed in epub3 format, this one fits a little less the narrow definition of (e)book in that it is based on a print format paired with an app, but it is so in order to natively support the augmented reality feature at the root of its accessibility.
It is worth noting that in the two examples we cited, the content itself of the books addresses a topic of disability. While this is not a requirement for qualifying as an accessible (e)book, it foreshadows two interesting trends in the accessible (e)book industry: 1) that of the large representation of disability-related topics (or rather, of the underrepresentation of such topics in the mainstream publishing industry), but also 2) the lack of variety the literary content available in accessible format. This prompts us to wonder more broadly: What are the characteristics and evolution of the accessible (e)book industry? This will be the topic of the following article available here.